Apartments Royal de luxe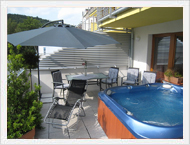 Luxury 3+kk apartment of 78 m2 equipped with air-conditioning and a delightful patio of 32 m2 offers the accommodation for 4-5 member family, perhaps even friends. Beyond the terrace there is also a balcony on the other side of house overlooking the spa promenade.
Further information...

Luhacovice Spa
Spa town Luhačovice
Luhačovice is the greatest Moravian spa town with a long tradition of balneal therapy of airways, digestive system, diabetes and locomotive organs. It is famous with pure healing headwaters, propitious climatic conditions and a pleasant atmosphere, in which beautiful landscape weds with a typical charming architecture.

Fountains in Luhačovice

There are 16 bicarbonate-chloride-sodium acidulous waters and one sulphuric well rising in the Luhačovice outskirts. The best known mineral wells are Vincentka, Aloiska, Ottovka, Dr. Šťastný's well and St. Joseph fountain. The rising waters temperature varies from 10? to 12°C (50°–54° F). Luhačovice Spa waters are considered to be the most effective in Europe for their high content of mineral substances and excellent fumigation with free carbon dioxide.

In Luhačovice spa the following diseases are cured
• Respiratory organs diseases (asthma, allergic bagassosis, chronic bronchitis, voice disturbances and raucousness, respiratory system postoperative cases, bronchial asthma, pneumoconiosis)
• Digestive organs diseases (digestion disorders and loss of appetite, resting phase of ulcerous stomach and duodenum illness, postoperative cases of gullet, stomach and gallbladder)
• Diseases from metabolism disorders (diabetes, obesity)
• Disorders of locomotive subsystems (painful tendons, muscles or tentacles disease, abarticular rheumatism, painful spine syndromes)
• Circulatory organs diseases
• oncology diseases (after-therapy oncological cases)

Spa treatment consists of utilization the natural healing sources in combination with state-of-the-art therapeutic and rehabilitative methods.

Most frequently used therapeutic methods
• drinking cure consists of regular drinking of prescribed amount of natural mineral water in the morning on an empty stomach and in the evening. The principal therapeutic dose is a standardized spa goblet of volume of 220 cc (1 cup = 22cl = 7.5 fl = 0.5 pt)
• inhalation by means of inhalation appliances, when the healing water gets in the breathing airways
• hydrotherapeutic procedures (bubble baths, ingredient baths, pearl bath, Scottish showers)
• massage (partial, lymphatic, sub aquatic)
• healing gymnastics, vacuum therapy, gas shots, oxygen therapy, acupuncture, acupressure, quaggy coating, electrotherapeutical procedures, laser therapy, magneto therapy and further various healing or relaxation methods, prescribed after the competent medical examination.